The brainchild of Mikhail Oppenheim, the ARTSTORY gallery, will soon be one year old. We met with the connoisseur of art and high speed to talk about how it all began, about excitement of it all as well as about ... sunflower seeds.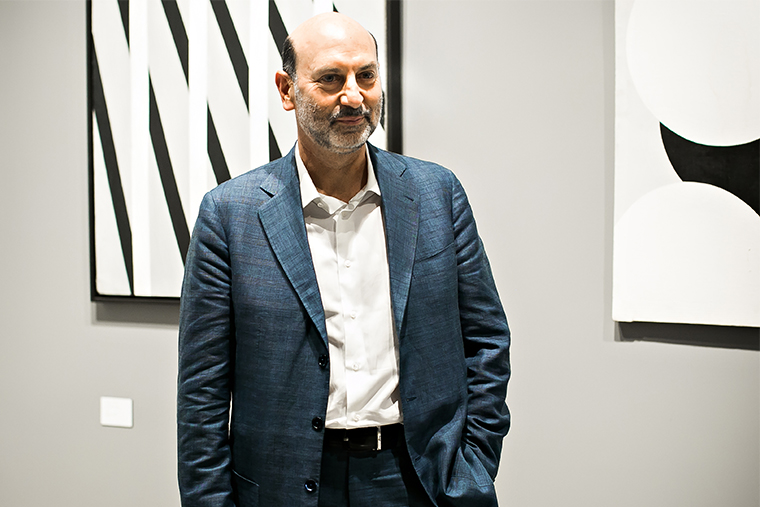 IT ALL STARTED WITH ONE PAINTING ...

Mikhail, considering that your profession is far from art, how did you get the idea to open the ARTSTORY gallery? Tell us your story of how to become a successful gallery owner.

I do not know how to become a successful gallery owner yet. That I have yet to see. The idea of ​​creating a gallery came gradually. At first, I conceived a passion for collecting, and started purchasing works of contemporary artists that I like. Then I met Lucine Petrosyan, who helped me as a professional in art selection. Lucine is personally acquainted with many artists, so we visited their studios together, and thanks to her, I got acquainted with the work of many modern painters. First, I had the idea of make an exhibition of Moses Feigin. He is a wonderful artist, and there was another reason - his 110th anniversary. We began to look for a site where we can exhibit paintings and visited the Tretyakov Gallery but there was a long line there. We flew to the Russian Museum in St. Petersburg, but the space that we were offered was not suitable for such an artist who deserves much more. We had a lead on the suitable premises but only for next year, and we still wanted it to happen in the year of the anniversary. We realized that, surprisingly, there is a shortage of art sites and we need to create our own.

Tell us about your collection of paintings - how did it all begin, what kind of collection is it? Do you remember your first exhibit?

Of course I remember. It all began four years ago with a picture of Vladimir Tatlin "Nude Lying on a Couch." The conclusions of renowned Russian museums at first confirmed the authenticity of the canvas. With the help of lawyers, we drew up a formal purchase and sale agreement. A clause was added to it providing for an independent examination and the possibility of terminating the transaction if the examination does not confirm the authenticity. The research was carried out at the Russian Museum of St. Petersburg. Experts have established that this is not Tatlin - the paints were applied at a later time than the artist lived. I had to return the painting and get a refund of my money. My first experience did not turn out to be very successful.

The same art dealer had a painting by Feigin. I was told that the author had recently died. But I could not buy the canvas - it was very expensive. But I remembered the name and became interested in the works of this artist. They are so rare on the market but I found and bought three of his paintings, and then later another one. After that I also bought the very first one that I liked but cheaper. Later I got acquainted with the works of Natalia Nesterova, Lev Tabenkin, Ilya Tabenkin, and this is how my collection began to take shape.

What are you especially proud of in your collection? Does your family support your hobby?

I am proud of Feigin. I have paintings by renowned masters - Oleg Tselkov, Oscar Rabin. I am proud of Leonid Purygin - a brilliant painter. My family fully supports me in my hobby.

Do you have any interesting stories about acquiring paintings?

You need to visit numerous studios and workshops to find the right paintings. Sometimes you would have a stiff drink with someone in order to make friends, find a common language (it's not about bringing down the price) and purchase a canvas from them. Sometimes, it so happens that artists do not want to sell their work. More than once I had to hear this mysterious phrase: "I'm not ready to part with it yet."

Sometimes I set my eye on a piece of art, but I can't get it because it's either too expensive or it's not for sale. And then it just comes to me by itself. Because if you truly want something, and not for financial enrichment, it will undoubtedly come true.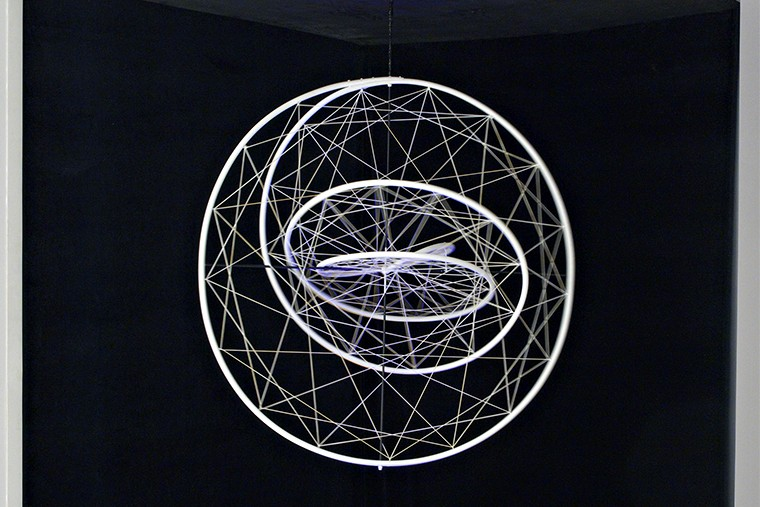 Let us imagine you had a time machine, what masterpieces of painting would you like to get to exhibit in your gallery?

Of course, the Russian avant-garde, for example, the paintings of Kandinsky. We have now reached that in our development. And I would also love to see Malevich drawing his "Black Square", and ask him what he was feeling at the time.

Moscow does not seem to be deprived of galleries. How did you see yours when creating it? What were the new things you wanted to offer the audience, sophisticated one or not so much?

We saw it not as a gallery in a pure sense but as a kind of a club. We wanted to create a comfortable space so that people would enjoy being here. We have no admission fees - it was a principal decision since there are enough establishments with paid admission, but not everyone can afford that. We set up classes for children and adults by appointment, we invite exciting people, art historians who talk about art and painters. It's also free. We consider this our small contribution to cultural promotion.

Despite the fact that the gallery has been open for less than a year, you have already managed to hold a large number of exciting and diverse exhibitions. How do you compile your event schedule on and who are your team-mates?

October 15 will mark our first year anniversary and we will definitely celebrate that. Here at ARTSTORY, we want to showcase and share the art that we love with others. And you can only do something well if you enjoy doing it. Making an effort to get someone to say something is futile. The second goal that we still have to achieve is to find talented young artists and, with the help of our platform, exhibit their work and help them promote it. That is why we have built a small art residence. People from outside the capital can stay and live here during the exhibition. For example, the artist Vladimir Migachev stayed in it and was very happy. As for team-mates... If we talk about Lucine, it would be more accurate to call her an ideologist rather than a team-mate.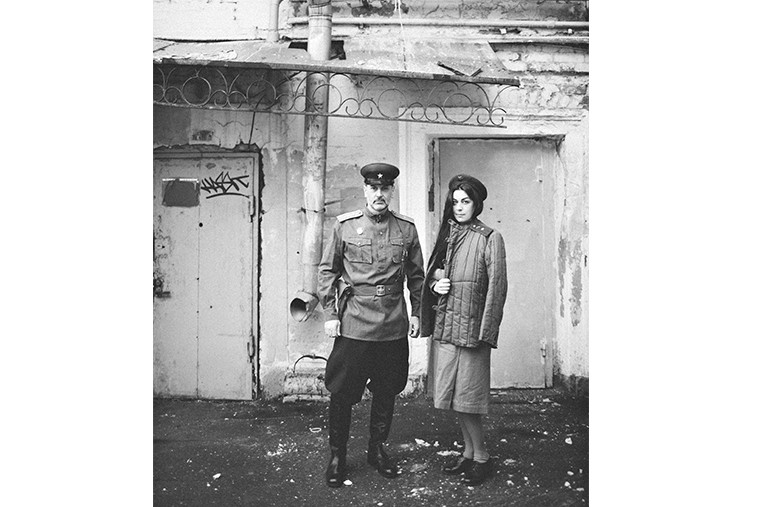 The first exhibition is "Time of Movement". Lucine conceived it and it was not easy. We had to repair the premises in a short time, with all the ensuing consequences - you probably understand what a construction project means in our country. It took a lot of time, we slept little and worked a lot. And at the same time we had to look for paintings. This fell on the shoulders of Lucine and Dmitry Butkevich, the curators of the exhibition. Collecting the exposition was not easy. Many artists and their works left our country - Lev Nussberg ended up in America, Vladimir Galkin in Germany. I had to find everyone, make calls. Some artists did not want to be exhibited together, because they quarrelled with someone. And they are not young people, all of them, although very talented.

Some of the exhibits we obtained were in shambles. For example, this exhibition featured a large aluminum rotating flower - the work of Lev Nussberg in collaboration with engineer Sergei Zorin. We found it in a museum, lying in the water in the basement. The metal parts made a painful impression, nothing remained of the electrical part, the mechanisms did not work. We found engineers who fully restored the exhibit in two and a half months.

The kinetic artist Anatoly Volgin, who created various objects and was once a member of the Movement group, has now become a priest. He was also invited to participate in this exhibition. He decided to make a copy of his work - a spiral, which would spin to the music of Jean-Michel Jarre. We were just finishing up the renovation in the gallery, and the priest in a cassock was painting his spiral on the street at the time, having hung it on a tree in front of the entrance. This fascinating sight simply paralyzed the traffic on Staropimenovskiy lane - the drivers stopped not being able to understand what was happening! It turned out to be an amazing promotion!..



Your opening days attract a lot of exciting people, which, of course, speaks of respect for you and your galley's status. Do you think ARTSTORY has found its niche in the exhibition palette of the capital? Can you give us a small summary for the past year - what have you managed to accomplish?

We believe the gallery already has its own "face" and has occupied its niche. Judging by the overflow of positive reviews in the guestboook, our efforts were not in vain. I don't know anyone else in Moscow who holds exhibitions as often as we do.

Other gallery owners are often surprised by this. We change expositions almost every month. Except, perhaps, exhibitions about the war and exhibitions of Moses Feigin - we have deliberately extended them. We publish books on many of our exhibitions. When we doing printing on Feigin, Lucine and I spent two days in the Tver printing house. I wanted it to be of the highest quality and for that goal we scrutinized and corrected the color rendition on each page. We have not made a profit on these books - the incurred costs cannot be covered by sales, but I am glad that people can buy what they like at a reasonable price.

PARTICIPATION IS NOT IMPORTANT, VICTORY IS!

Are you a gambler, an adventurous type by nature? It is no coincidence that I am asking about it. You find time in your busy schedule for another hobby - participation in on vintage car racing. Have you been fond of this for a long time? We'd be delighted to hear how you feel on the subject, and you can even brag about your achievements ...

I don't consider myself such. I do not gamble and do not rely on the will of fate. It's another matter if I am interested in something - then I believe that you need to achieve something in this hobby. I like racing vintage cars and I do not participate for the sake of participation, but to win. And sometimes I do. I take part in different races - circuit, Сategory 3 rallies (race in a city or outside it with the goal of sticking to the route) which take place several times a year. Recently I took part in the prestigious international Mille Miglia rally for the first time (from Italian "Thousand Miles" - Ed.). This is an annual race with a long tradition, held in Italy in May since 1927. You need to cover 1,700 km (1,056 mi) in 3 days of the Brescia - Rome - Brescia route.

How many participants are in it?

There were four hundred vintage cars alone plus there were modern Ferraris and Mercedes. The pre-selection stage screens out a lot of cars for non compliance. Several tests take place on one difficult spiral tracks. Russia was presented by 3 crews consisting of 2 people each, a pilot and a navigator. The race is very hard. You only have a few hours a day to sleep, because you are driving for 15 hours. A short rest at the hotel and then we hit the road usually without breakfast, since the start is before the restaurant opens. We only managed to grab lunch, and there was no time or energy left for dinner, because we needed to get at least a little sleep so we lived on one meal a day.

We reached the finish line first, but taking into account the accuracy of the route, we ended up taking 16th place. This is the best Russian achievement ever. Last year's race winners praised us for it but I didn't care much about the spot. For some reason people consider this a great achievement, they sent me congratulatory SMS, and we were welcomed home as heroes.

I was not ready for this - after all it's not a grand prix. In this race, the first 40 crews are considered winners with trophies presented at the main theater in Brescia.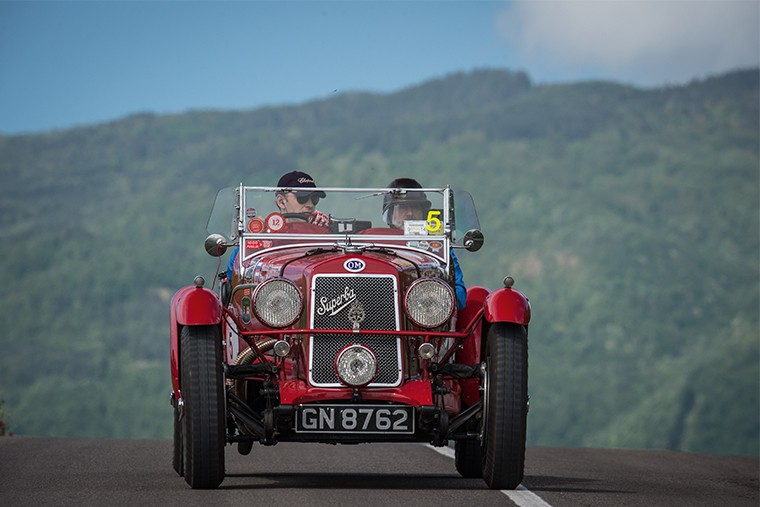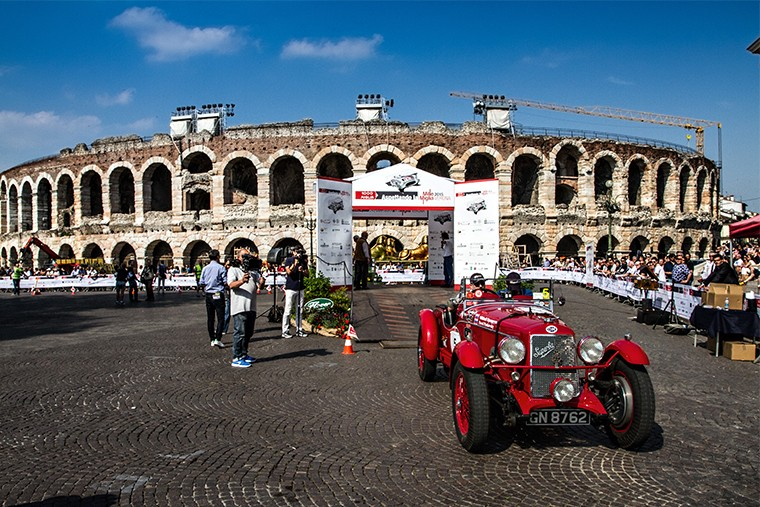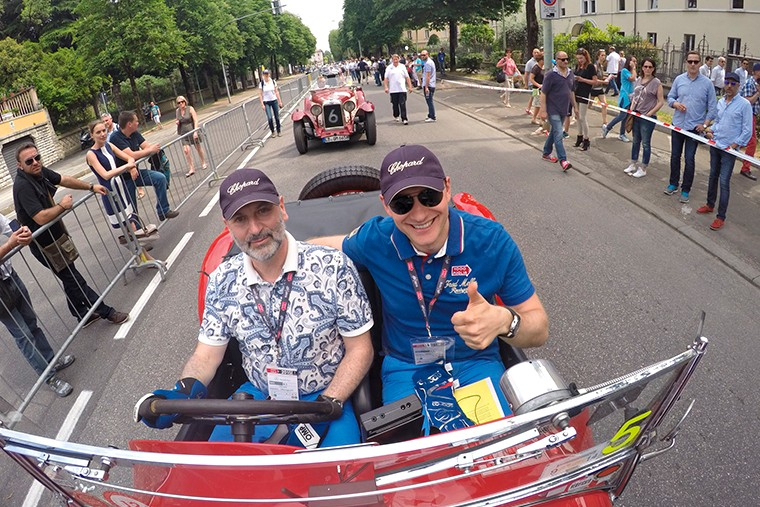 Do you have vintage cars in your garage? What kind? Why these cars and how did you come by them?

Yes, I have a few vintage cars: a 1914 Renault, in which I take part in various rallies in Moscow, including the pretentious city Chopard with a large number of participants - more than 100 crews. This year we won it as we did three years ago. I got a 1953 Mercedes-300C, one of my most beloved cars. There is also a 1964 Lotus for circuit racing. I race these cars in different types of rallies about five or six times a year, sometimes up to ten.

Is there a specific preparation for a rally?

No, there is not enough time for that. I usually come straight for the start.

When did you start racing? Have you counted how many of them do you have under your belt?

You know, I never counted how many there were since 2008. People are already joking that I probably have nowhere to put the winner cups.

I am sure that you met many exciting people and have quite a few stories.

Sure. For example, the owners of the brand, the father and son of the Scheufele family always come from Switzerland to the Chopard rally. We know each other and we meet to talk every year. If we talk about Mille Miglia, that is a real celebrity fest - former Formula 1 drivers participate in it, there are princes, owners of large global companies. This event is not easy to get into, even your car model must be up to par. Italians are passionate fans. At any time of the day or night there are people of different ages, even with babies, old women raising their canes in the air along the entire track when they see cars cheering up the racers. Chairs are placed on the side of the road. Spectators stand on the balconies. Some even tries to feed the drivers. For example, a Volvo with Italian license plates drove behind us for half a day, sometimes helping to clear the road from cars since it was not a dedicated highway, but a public road. At the gas station, the guys jumped out of the car and brought us food. For some reason they chose us. I never found out who it was. But it was very pleasant and amazing.

In the Chopard Rally I drove an OM car, an old Italian model from 1929. On rare sports cars, the pedals are not located as they are now - gas on the right, brake is in the center, and clutch on the left. The gas and clutch were the other way around before. So when you drive a car like that without proper training, there is a risk of confusing the pedals and flying off somewhere. On my first day I was just getting used to the car, which I hadn't driven before, but I mastered it eventually.

Do you drive vintage cars around Moscow outside the rally?

Sometimes when I get the chance I drive my Mercedes but with the gallery there is almost no time left for that.

CUP OF TEA BLITZ QUESTIONNAIRE

Name your favorite artist and favorite painting.

Moses Feigin and his painting "Orpheus".

The very first vivid event from your childhood.

Perhaps this is related to cars - at the age of 3 I went for a ride in the neighbor's committee executive's Moskvich. I was friends with the driver and sometimes, as far as I remember, helped him to inflate the tires.

What qualities do you value in a woman?

That is a hard question. Perhaps, being natural - although I appreciate this quality both in a woman and in a man. I want to see a person as they are.

The latest movie that you enjoyed very much.

A brilliant American movie "Birdman" directed by Alejandro Gonzalez Iñarritu.

Favorite composer and musician.

I love very different composers: Rachmaninoff (piano concertos), Tchaikovsky, Beethoven, Mozart, Bach. And among rock musicians - Garik Sukachev.

Favorite book.

For me, the books "of all times and peoples" are 12 Chairs and The Golden Calf by Ilf and Petrov, and my favorite character is Comrade Bender.

Theatrical performance that impressed you.

"Shukshin's Stories" at the Theater of Nations with the magnificent Chulpan Khamatova and Yevgeny Mironov.

Traditions.

Every year on Victory Day, my friends and I put on the military uniform of the 1940s and drive around Moscow in military vehicles. We give flowers to veterans. This is a holy holiday for me.

What cities do you like to visit.

Besides Moscow, my favorite city is Rome. I can walk around it for days on end and enjoy it. Madrid is also very beautiful.

The most extraordinary event in your life.

Probably my 2 years of service in the Soviet Army, in the Far East after the university. Complete surrealism! I made my discharge album when I was returning home on a seven day trip by train.

Guilty pleasures.

Frankly, I love sunflower seeds. Here is an anecdote on the subject - An Eskimo is sitting on the shore devouring a whale and says: "The whale is like seeds - you won't stop until you finished it all."